Customer Reviews
Really pleased with the bracelet
The bracelet is sold and well crafted I wanted something to wear all the time and to go with my other Silverwow bracelet which is a bit big to wear every day. It arrived quickly and without a hold up in customs.
02/02/2021
Michael G.

United States
Love my Mexican Garibaldi Link Men's Bracelet!
This bracelet is just awesome! Heavy weight and beautiful craftsmanship. I'm amazed about how many compliments I get on it and people wanting to know where I got it. I'm always happy to tell them SilverWow and how great Andy is to deal with! Just ordered a new necklace from Andy and can't wait to receive it! SilverWow is now my Go To for quality, heavy weight silver jewelry.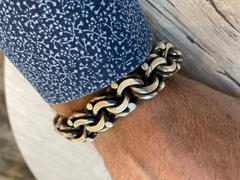 Worth the wait
Great experience from purchase to doorstep. The garibaldi is my first purchase and it's exactly as I imagined. Chunky enough without being too imposing. Wonderfully intricate design. Extremely well made and great clasp that's won't concern you in the slightest as far as failing is concerned. The weight pretty much tells you that you have a good amount of quality 925 silver on your wrist. I can highly recommend Andy and his first class service and silver. Would I buy again. You betcha. 10/10
14/03/2020
Kyle .

United States
Unique
This is very great design unique it has good heavy feel i use it as ankle bracelet ordred 2 more
10/05/2016
Ricky, a.
Milton Keynes, Bucks, United Kingdon
Hello Andy, "THANK YOU" "VERY ...
Hello Andy, "THANK YOU" "VERY IMPRESSIVE" I do not usually do testimonials, but on this occasion, I make an Exception!. EXCEPTIONAL SERVICE EXQUISITE CRAFTSMANSHIP SILVERWOW = 10/10 Highly Recommend! 100% Happy* Grateful* Appreciative* Impressed* I Look forward in anticipation to new designs. A Pleasure doing business with you Andy, *SILVERWOW* Crew :+) *"Thank You"*