Customer Reviews
25/08/2022
Frank T.

United States
Outstanding every step of the way!
This transaction went great. Quick response when I placed the order. Andy contacted me to be make sure I had the right size and told me how to measure it correctly. I would have ordered the wrong size. That's real customer service….. before you need it!!! Delivered sooner than expected, and excellent quantity. I wish everything I bought went like this. You won't be disappointed. Thanks Again Andy.
05/02/2022
Stuart N.

United Kingdom
Handcuff bracelet
Looks good and feels a good weight.
14/03/2020
joanne b.

United Kingdom
01/02/2020
Patrick R.

Ireland
K.Richards Handcuff Bracelet
Ok I'll keep this simple, the Keith Richards handcuff silver type bracelet designed by SilverWow is exquisite the build quality the weight and the look of the Bracelet is stunning. The price is un-real for this amazing Silver bracelet, and the delivery time was also amazing to Dublin Ireland. To be honest I would have paid twice or three times the price for this bracelet as you will not get a piece like this with this amazing look and build quality for the price SilverWow offer the Bracelet for anywhere in my view. Andy! I applaud you Fxxking nailed the handcuff KR Bracelet it's flawless. Keep the amazing work up you have a trilled to bits customer who in the words of Arnold Schwarzenegger "I'll be back" Five Stars my Man!!!!!!!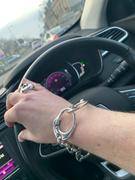 I received my item in a very ...
I received my item in a very timely manner! The bracelet came in excellent condition. It truly was all I expected. My only disappointment was I measured my wrist very accurately, my wrist is 7inches. Small I know, however it is to fit a 7-8 inch wrist. It is a little small for my liking. It does fit.. but I think it couldve used at least one more link. So my advise to anyone ordering one, maybe go just a bit oversized. It would be easier to remove a link or two at your local jeweler than have links put in. All and all, Im satisfied with it!