Customer Reviews
15/12/2018
Dennis o.
Palm desert, California, USA
Amazing ! Andy delivered ! So ...
Amazing ! Andy delivered ! So !impressed with Quality and workmanship ! Beyond expectations ! First of many purchases.
04/03/2018
Noel V.
Ghajnsielem, Gozo, Malta
I received my two separate orders ...
I received my two separate orders not long ago. I was impressed with the quality of both items. Fine workmanship and fine 925 silver. It was worth the wait. Andy is a real gentleman and up to his word. Kept in touch with me at all times, from the moment I placed my order until I received it I shall be placing another in the near future.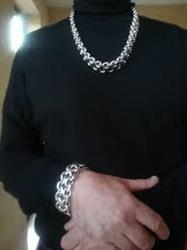 23/03/2012
andrew
Morning View, Ky, USA
Hey Andy, Just wanted to say thank ...
Hey Andy, Just wanted to say thank you for my most recent order of the bangle bracelet. last month I ordered the figure 8 bracelet. I wear both pieces together. your products are excellent quality and the best I have ever seen! I am very satisfied and will be a regular customer. I am already looking to make another purchase. Sincerely Andrew S. USA
Hi Andy, As promised I have put ...
Hi Andy, As promised I have put together a short testimony for you below, I hope it is of some use to you. I have been after a silver bracelet for a while now and found silverwow through an internet search. I wasn't sure I wanted something as chunky but in the end I opted for the Desgner-Bracelet-KBB1. With it being a designer piece and the fact I had asked for the larger size it took about 3 weeks to arrive(the website does state that time scale for this piece so it was no surprise) When I first seen this bracelet in the flesh I was gobsmacked by it, the pictures just don't do it justice. It is chunky but you quickly get used to it, it's the workmanship and the attention to detail that has gone into the piece that is the most impressive thing. The first night I wore it was at a wedding and by the end of the night I had lost count of the amount of people that had approached me to comment on how impressive it looked and wanted to inspect it more carefully. It truly is a work of art and I'm so happy I took the chance and purchased it. kind regards Stevie Connelly The communication from Andy during the purchase has very good and I wouldn't hesitate in purchasing from him again or indeed recommending him to family or friends Here are Mens Thick Silver Bracelets.
Hi Andy Received My Bracelet today ...
Hi Andy Received My Bracelet today Thursday 5th Jan 2012 and it is bigger and better than expected. all the best for 2012. I am a Happy Happy Man. regards, Paul. Whitley Bay U.K.