Customer Reviews
14/03/2020
joanne b.
United Kingdom
01/02/2020
Patrick R.
Ireland
K.Richards Handcuff Bracelet
Ok I'll keep this simple, the Keith Richards handcuff silver type bracelet designed by SilverWow is exquisite the build quality the weight and the look of the Bracelet is stunning. The price is un-real for this amazing Silver bracelet, and the delivery time was also amazing to Dublin Ireland. To be honest I would have paid twice or three times the price for this bracelet as you will not get a piece like this with this amazing look and build quality for the price SilverWow offer the Bracelet for anywhere in my view. Andy! I applaud you Fxxking nailed the handcuff KR Bracelet it's flawless. Keep the amazing work up you have a trilled to bits customer who in the words of Arnold Schwarzenegger "I'll be back" Five Stars my Man!!!!!!!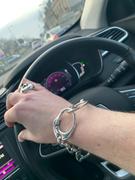 I received my item in a very ...
I received my item in a very timely manner! The bracelet came in excellent condition. It truly was all I expected. My only disappointment was I measured my wrist very accurately, my wrist is 7inches. Small I know, however it is to fit a 7-8 inch wrist. It is a little small for my liking. It does fit.. but I think it couldve used at least one more link. So my advise to anyone ordering one, maybe go just a bit oversized. It would be easier to remove a link or two at your local jeweler than have links put in. All and all, Im satisfied with it!
15/11/2017
Paul K.
Hamburg, NJ, United States
So my father purchased this ...
So my father purchased this amazing bracelet for me for my birthday!!! The craftsmanship and detail are incredible!!!! Its a heavey weighted piece which is worth far more then what my father expected!! The level of service is above any and all comparison...Andy you are awesome!! Thank you so much!!!!!! I will be making all my silver purchases with you from now on!!!!
09/11/2017
Debs
Sheffield, United kingdom
Bought this for my husband, who is ...
Bought this for my husband, who is a massive Keith Richards fan. He loves it. Great service. Really heavy silver. Looks fantastic. Thank you.